Hardscape is an essential component in landscaping for both design and functional purposes.
What is Hardscape?
Hardscape is simply defined as any of your landscape's non-living features such as concrete, pebbles, bricks, pavers, stone, and wood. As the name implies, they are the more difficult design elements in your space. Hardscaping also refers to man-made structures such as decks, pergolas, and patio covers that are used in your landscaping.
Hardscapes can cover nearly any decorative or functional structure in a landscape, from driveways to fences to benches. They provide great functional purposes to define and organize natural regions of a landscape.
It is one of the two major landscaping subcategories, the other being softscape -- all of the live and organic features in a garden or on a lawn, such as trees, flowers, and grass. In Florida landscaping, however, getting them to function together in a balanced manner can be difficult.
How Does Hardscaping Help?
Hardscape elements can be used to restrict specific portions of a place, such as a driveway. It can also guide people walking in open spaces, such as walkways that bring visitors through various softscaping zones. An example of this is a gravel road leading from a grassy area to a garden.
Installing hardscaping can be a difficult task. Some hardscape projects are too physically demanding to be completed with only manual labor and will require heavy machines. Rather than giving up on your outdoor oasis because you can't afford the heavy equipment, seek a landscaping company in Central Florida that can build your dream hardscape.

Types of Hardscapes:
A hardscape, or any solid landscaping surface or structure, may easily make a statement in your yard. There are numerous ways to enhance your property with hardscape elements:
Driveways
Although driveways are challenging to design aesthetically, they are essential for curb appeal due to their size. Use unique materials such as painted concrete, cobblestone, or concrete pavers to make your driveway more appealing.
Patios
When constructing a patio, make sure to leave enough area for lounge chairs, cocktail tables, a bar, and plenty of walking space. Flagstone, brick, stamped concrete, and concrete pavers are just a few materials used to build patios.
Retaining Wall
Sloped landscapes with hills can be managed with retaining walls. Retaining walls will help provide the landscape structure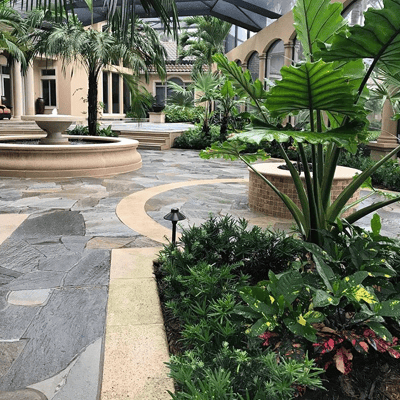 by retaining soil and adding an aesthetic appeal to the property.
Walkways
Pavers, brick, stone, concrete, terrazzo, and glass pebbles are just a few of the options for walkways and paths. Make sure to pick a design that compliments your home and fits your garden. This modest path complements the warm colors of summer flowers and provides structure to the garden in the winter.
Gravel paths
Gravel paths are one of the simplest and most cost-effective landscaping projects since they can be shaped and designed in any way. Gravel paths are a good option for landscapes that may be changing due to the ease of being able to rearrange them as needed.
Decks
Wood or low-maintenance composite materials are used to construct decks. Decks should be spacious enough to support dining, sunbathing, and other activities, just like patios.
Conclusion
As a result, there are many different types of hardscapes available today. You don't have to settle for anything less than what you want. If you need help designing your landscape, you can contact us at Down to Earth Landscape and Irrigation to provide you with all the information you need about creating the perfect hardscape.