Don't get us wrong, you still have to mow. But unlike the summer months, where rainfall increases turf growth, fall weather means slower growth. Cutting too often or cutting too short will expose your grass to funguses and cold damage. Instead of weekly mowing, try cutting down to bi-monthly or even monthly (depending on turf species). Keep your grass at about three inches or above in height, but do not neglect to mow altogether. Insects and diseases that go dormant for the cooler seasons can take refuge in your unkempt grass and will wake up as warmer weather comes back.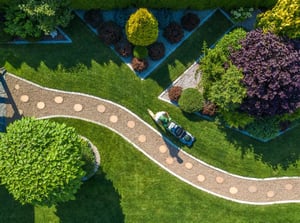 Florida's rains let up in fall, with hurricane season ending at the end of November. As such, your previously supplemental watering will now become your landscape's main source of water. Careful precautions should be taken to prevent overwatering, as many plant and grass species naturally store water from the summer to carry into the winter. Overwatering these now dormant root systems can lead to rotting which attracts fungus and disease. If you have an up-to-date irrigation system, you or an irrigation specialist can adjust your settings to account for the cooler weather requirements as well as your individual landscape needs.
Finally Fertilize
Florida soil tends to be deficient in nutrients and sandy in nature. During the summer, heavy rains tend to wash away fertilizers, leading concentrated nutrients into waterways. These excess nutrients can throw off the natural chemical compositions of the surrounding ecosystems and at the same time, don't stay on your lawn. Waiting until the rains let up will allow you to precisely place and mix in fertilizers without worrying about the environmental impact. It would be best to fertilize with limestone and nitrogen-rich mixes to revitalize the ground, getting it ready for plant and seed growth.

Additions and Beautification
Now that your landscape is freshly fertilized, it's time to plant seeds, saplings, and shrubs that thrive in the coming months. Florida's cool season is a great time to plant cold-tolerant annuals and even vegetables and fruit trees. Fall is one of the prime seasons to plant the most popular and colorful flowers like pansies, chrysanthemums, and snapdragons. Winter and even spring favorites like holly and lilies are also essential plantings if you want them to be ready to add seasonal flair to your landscape.
Ready for Winter
It can be easy to ignore taking winter precautions, especially when Florida's coldest temperatures happen at night. Even if you don't notice some of the lower temperature drops, your warm-weather plants will. Covering up particularly delicate plants and flowers will prevent them from frost damage. There are over 1,500 varieties of palm trees, but a majority are still highly vulnerable to frost damage. Exposed palms will quickly brown and shed palm fronds when exposed to temperatures or wind chill below 40 degrees Fahrenheit. Protective coverings should be used only if cold weather is certain and should not be left on for longer than five days. Keeping the palm tree out of the direct sun for too long can also pose a threat to the tree's health.
Annuals & Perennials that Can Add Fall Color to Your Landscape
The best way to add fall color to your landscape is by planting annuals and perennials. Down To Earth has listed six of the best options for fall color for a Florida landscape below.
1. Chrysanthemum
Chrysanthemum, also called mum, is a perennial known as the 'Queen of Fall Color'. Chrysanthemums bloom in a wide array of colors and shapes; they add beauty and texture to a landscape and are a must-have fall perennial. You can find mums in almost every color - blue, purple, orange, auburn, and yellow.
Chrysanthemums like well-drained soil and are photoperiodic, which means that they bloom according to how long the daytime is. They start producing buds when the night duration reaches 10 hours and then start blooming six to eight weeks after they grow buds.
2. English Marigold
The English Marigold has pom-pom-shaped blooms in vibrant shades of oranges and yellows with slight hints of white on their petals. It can grow up to two feet tall and is able to thrive in a range of soil conditions. The Marigold grows best in full sun and its blooms and blooming period can be increased by pruning spent flowers from time to time.
Make sure to take care of them especially well during any random cold snaps in Florida as they are sensitive to cold weather and will last only till the first frost.
3. Firespike
Firespike consists of tall, red flower spikes at the top with big, green leaves surrounding the stems below. The beauty of fire spikes is that it blooms all year round in frost-free areas and adds a burst of brilliant fall red to the landscape. It is also a great plant for attracting hummingbirds to the landscape.
Another amazing feature of fire spikes is that they can grow in both full sun and thrive in full shade as well. They also adapt to a wide range of soil conditions and grow up to 4 feet tall. Plant them about 2 feet apart and they'll quickly fill the area.
4. Pansies
Pansies are beautiful cold-tolerant annuals that bloom in various colors including white, yellow, purple, and red. You will find pansies in a single bright color or with a dark center surrounded by bright petals. Pansies are compact plants and, therefore, are ideal for planting in window boxes, containers, or borders with well-draining soil.
These beautiful blooms are also edible, which adds another point in their favor. However, it is important to note that pansies are not very heat tolerant and are mostly suited for planting in Central or North Florida.
5. Salvias
Salvias have both annual and perennial varieties and bloom in a wide range of fall colors including white, yellow, pink, scarlet, purple, and blue. Different species of salvias grow to various heights and have different spreading speeds, but they mostly grow between two to four feet tall.
Salvias are versatile plants that thrive in well-drained soils and are ideal for planting in both flower pots and flower beds. Salvias are drought-tolerant, which makes them a great choice for Florida landscapes.
6. Snapdragons
Snapdragons are easy-to-grow cool-season annuals that can grow anywhere from 6 inches to 3 feet tall, depending on their variety. They also bloom in a wide range of colors, including shades of yellow, white, red, and orange, allowing the landscaper to create a custom color palette in their landscape.
Snapdragons can be planted in both borders and containers as they add a rich burst of color to the landscape when planted in groups.
Trees for Fall Landscaping
If you want to make a bigger statement in your fall landscape and don't require immediate results, consider planting any of the trees given below for fall color.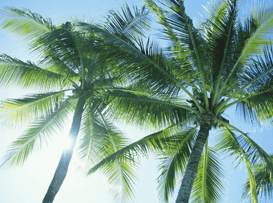 1. Christmas Palm
Retain the Florida charm in your landscape with a beautiful Christmas palm. They are a great choice for fall color in a landscape due to the glossy, bright red fruits that they produce on their trunks during fall and winter. Christmas palms reach a height of 6 feet fairly quickly and then grow at a slower rate to grow up to 25 feet.
The best part about this tree is that since it is a palm, it adapts to the Florida climate very quickly, making it easy to care for.
2. Flowering Dogwood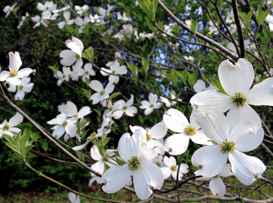 Flowering dogwood is a deciduous, understory tree that grows up to 35 feet tall in partial sun and slightly acidic soil. It is native to the eastern part of the country, and this includes North Florida.
In spring, Flowering dogwood produces star-like blooms with four white petals surrounding a center green cluster of berries, and in fall these blooms turn a deep red before falling.
3. Red Maple

Red maple, also known as 'Florida Flame,' is a native Florida maple tree that provides brilliant shades of orange, yellow, and red to the landscape during fall. Red maples can grow up to 60 to 75 feet tall, provided they are irrigated well enough and planted in acidic soil with high organic matter. Red maples thrive in swampy conditions.