Your Florida lawn can be affected by a multitude of insects due to the diverse climatic and environmental conditions found in the state. Properly identifying them at an early stage and prompt action can help decrease the impact of these pests on plants, turfgrasses, and crops.
In this blog, we'll learn about the various pests in detail and their control methods.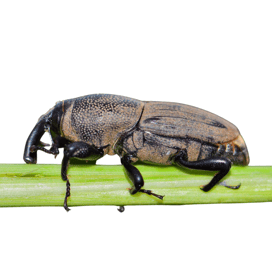 1- Billbugs
An adult billbug is a black beetle that is characterized by a snout or "bill" and has chewing mouthparts located at the end of it. These insects can be found all over Florida and have increasingly become a nuisance for lawns in recent times. They typically prefer Zoysiagrass and bermudagrass as hosts, with the most harm being inflicted during the fall and spring seasons. In situations where an area of turf appears to wilt despite adequate irrigation, it is advisable to investigate the possibility of a root-feeding billbug infestation.
2- Granulate Cutworm
Granulate cutworms, also known as Feltia subterranea, are a common pest that affects a wide range of plants and crops in Florida. These larvae are typically 1 to 1.5 inches long and have a granular texture, which gives them their name. They feed on plant roots and often burrow into the soil during the day, making them difficult to detect. Granulate cutworms are most active during the fall and spring seasons, and their feeding habits can cause significant damage to plants and crops. To manage an infestation, it is recommended to use a combination of cultural practices and mechanical barriers, along with insecticide treatments. Early detection and prompt action can help reduce the impact of granulate cutworms on plants and crops.
3- Fall Armyworms
Fall armyworms are a common pest that affects turfgrasses in Florida and leads to bare spots in a lawn. These caterpillars can be identified by their dark head marked with a light-colored inverted Y and are typically active during the late summer and early fall seasons. They feed on a wide range of plants and can cause significant damage if left untreated. Signs of infestation include adult moths flying towards lights in the landscape at night, and groups of eggs that have been laid. Fall armyworms are usually controlled by their natural predators, such as wasps and other predatory bugs. Consider that pesticide applications can impact these natural predators, therefore, keeping your lawn well-maintained and healthy is the best way to prevent these pests rather than treating them.
4- Fire Ants
Fire ants are a common pest found throughout Florida and the southern United States. These ants are reddish-brown to black in color and build large, mound-shaped nests in the soil. Fire ants are known for their painful and burning stings, which can cause an allergic reaction in some people. They are also known to damage plants, electrical equipment, and small animals. There are unfortunately no control methods that will remove fire ants forever from an area. Using individual mound treatments with baits together with broadcast bait applications can assist in controlling these pests. Regular monitoring and prompt action can help reduce the impact of fire ants on homes and gardens.
5- Eastern Lubber Grasshopper
The eastern lubber grasshopper is a unique and fascinating insect species that can be found in southeastern parts of the United States. This grasshopper is known for its large size and bright coloration, which includes distinct black and yellow patterns on its body. The eastern lubber grasshopper is often seen in large groups in open areas, including agricultural fields and landscapes. Although this grasshopper is not considered a major agricultural pest, it can cause damage to some crops, such as citrus. In addition to its distinctive appearance, the eastern lubber grasshopper is known for its ability to produce a noxious, foamy secretion when disturbed, which can deter potential predators.
6- Ground Pearls
Ground pearls are a unique and troublesome pest that can be found in the soils of turfgrass and plants. Ground pearls are small, pearl-shaped insects that attach themselves to the roots of plants and feed on the plant's sap, which can cause significant damage and even death to the plant. Ground pearls are difficult to control because they are located underground and are protected by a waxy, protective coating. The best management strategy for ground pearls is to maintain healthy soil and plants, which can help to reduce stress and increase plant vigor. Other control methods include the use of insecticides which can attack the ground pearls. They are a persistent and challenging pest that requires a proactive and integrated management approach to effectively control.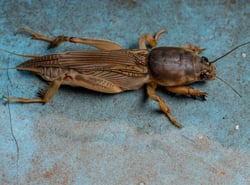 7- Mole Crickets
Mole crickets are a common and destructive insect pest that can cause significant damage to lawns and turfgrass areas. They are subterranean insects that tunnel through the soil and feed on the roots of grasses, which can result in the death of the grass. Mole crickets are active at night and can be identified by their large, spiny front legs, which they use to dig and burrow through the soil. Mole crickets damage can be particularly severe in Florida and the southeastern United States, where the warm and humid climate provides ideal conditions for their proliferation. The best management strategy for mole crickets includes regular monitoring and early detection, which can help to prevent significant damage. Control methods include the use of insecticides and the use of biological control agents such as nematodes.
8- Southern Chinch Bug
The primary pest of St. Augustine grass in Florida is the southern chinch bug, which can also attack other turfgrasses and weeds. Adult southern chinch bugs are black with white patches on their wings and measure approximately 3/16 inches in length. Nymphs range in size from 1/16 inch to nearly adult size and have reddish-orange bodies with a white band on the back when they are small. As they mature, their bodies turn black. These insects live in the thatch layer and use their needle-like mouthparts to extract fluids from the crowns, stems, and stolons of grass. The grass first turns yellow and then reddish-brown before dying. Since chinch bugs feed in groups, patches of dead grass appear and increase in size as the insects spread. In southern Florida, the most severe damage typically occurs between March and November, while in northern Florida, it occurs between April and October.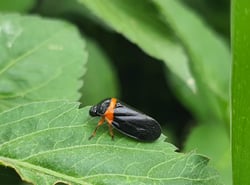 9- Spittlebug
Spittlebugs are a type of insect that can be found in gardens, lawns, and agricultural fields. They are so named because of the protective foam they create around themselves while feeding on plant sap. These insects are about 3/8 inch long and are often brown in color. Spittlebugs can cause damage to plants by piercing them with their mouthparts and extracting sap, which can lead to stunted growth, wilting, and discoloration. There are currently no identified natural enemies available for the biological control of spittlebugs, and no chemicals have been registered for use in controlling spittlebugs on pastures.
10- Tropical Sod Webworm
The tropical sod webworm is a common insect pest that can be found in grassy areas, including lawns, golf courses, and athletic fields. It is a small, grayish-brown caterpillar that feeds on the leaves and stems of grasses, causing damage that appears as brown patches in the lawn. The adult form of the insect is a small, tan-colored moth that can be seen flying around in the early evening hours. The best management strategy for tropical sod webworms is to maintain healthy turfgrass through proper fertilization, irrigation, and mowing practices, which can help to reduce stress and increase plant vigor. Additionally, the application of insecticides can be effective in controlling tropical sod webworm populations if necessary.
11- White Grubs
White grubs are the larval stage of various species of beetles and are a common pest in turfgrass and agricultural fields. They are white, C-shaped insects that feed on the roots of plants, causing significant damage and even death to the plant. White grubs can be identified by their brown head and three pairs of legs. Plowing in late spring or early autumn can eliminate numerous larvae, pupae, and adult insects from the soil. Additionally, this method exposes the insects to natural predators like skunks and birds. However, for this cultural practice to work, plowing must be done before the grubs move below the depth of the plow. Natural enemies that control these pests include flies and parasitic wasps.
At Down To Earth, our comprehensive range of services includes everything from site design, planning, and construction to irrigation system design and installation, landscape maintenance, and enhancements. Contact us today to hire our experts.