Getting your property into the holiday season sets a festive and fun tone. You might think that installing commercial holiday lights is the only way to lighten up your property, but there are also several landscaping additions that you can do to prepare for the holidays and show a festive side of your landscape.
Whether you are an HOA, a retail property, a resort or hotel, or any other commercial property, with the help of Down To Earth, you can have an amazing setup for the holiday season. Here is a list of landscaping tips and holiday decorating ideas to help set you up for this season successfully.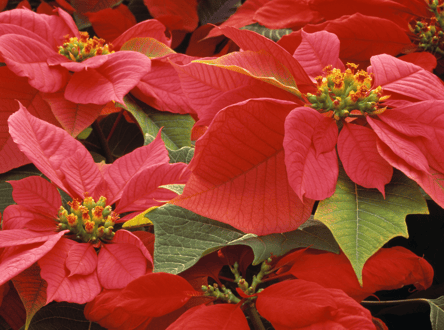 1. Incorporating Holiday Fun into Your Seasonal Rotation
Planning ahead is essential when incorporating seasonal color into your landscape. Many landscaping companies have great connections to local nurseries, which means they can order holiday plants for you for a great price! Reach out to Down To Earth for your inquiries to order any special seasonal plants this fall. Plan and order ahead of time to enjoy your holidays with the perfect landscape.
You can choose from some great plant choices to include holiday fun in your seasonal flower rotations. However, a few of these do depend upon in which region your property is located. You have many more choices for blooming plant material during the winter months if you are located in a temperate climate.
Color is a major aspect of creating holiday fun. Flowers in shades of burgundy, deep red, and white contain a natural holiday feel in them. You can use begonias to help include a few of these colors in the seasonal rotation.
Of course, everyone wants to have poinsettias, as they are connected with the holiday season. Their white and crimson flowers make them naturally festive, and you can create some fun designs with poinsettias on your property.
2. Adding Lighting to Your Water Features
Other than installing commercial lights for holiday decor, you can also light up the water features on your property!
Water features are trending for more elaborate designs today. And now you can also see these features being lit in shades such as red and green, or white and blue for the holiday season.
It is budget-friendly to change out a bulb to one that is festively colored—and yet it offers a dramatic feel on the overall look of your holiday decor. It's a simple way to make a huge statement.
3. Apply Fresh Mulch
Along with fun holiday additions, it is also prevalent to freshen up the landscape for family and friend gatherings. Mulch serves as a new canvas for landscape beds. It creates an attractive background that highlights flowers and plants —and, more essentially, mulch protects plant health.
Mulch aids soil holds onto nutrients and moisture, and it balances soil temperature. Down To Earth recommends applying new mulch to your landscape beds at least every year.
Hire a Landscape Company to Have the Best Holiday Season
The holidays are a fun time of the year, and some holiday enhancements and/or clean-up can help tenants, guests, visitors, and others to enjoy their time on your property.
Making the best decisions and ensuring that your property is ready for the holidays can be made simpler with the assistance of a landscaping company on your side. Not only do you want your property to appear cheerful and festive, but you also want to keep it tidy and neat as it's experiencing an increase in activity during this time.
And you want your property to be safe as well. As there is increased traffic on your property at this time of year, you don't want any landscaping accidents to pose a danger.
Having proper maintenance during this time of year is also essential. After all, though enhancements like seasonal flower rotations are fun, if your property isn't well maintained, you aren't going to get the most benefit out of these additions.
There's much to consider, but you don't have to take the burden of it all on your shoulders. At Down To Earth Landscape & Irrigation, we are available to be your reliable landscaping partner at the time of the holiday season and all year round. We are always finding ways to take your property to the next level.
When you select the right commercial landscaping company, you can rely on them and be confident that your property is going to look its best not only during the time of holidays but during each season.
Contact Us
Are you ready for holiday enhancements for your commercial property landscaping? Contact Down To Earth for a consultation today. We can check out your property and its demands and design a comprehensive plan to take care of all your landscaping needs.
If you are a current customer looking to add some festive fun to your landscape this year, contact us today! If you are not a current customer but are looking for an estimate for our wide range of services, request an estimate from us!