In the past two years, many of us have spent more time at home. Due to this, there has been much more time being spent improving our homes from the inside out. Many of us have transformed our spaces into our own oasis, especially our outdoor areas.
The new year is here, and we bring you the 2022 landscape design trends to look out for to make sure your landscape remains in top shape this year.
1. Maximizing Your Space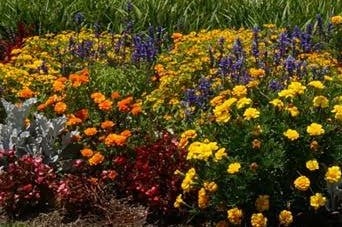 If you think landscaping is not for you because your yard space is tiny, then you're in for a surprise. There is a lot you can do with small spaces.
You can add a burst of color to your property by planting flowering plants at the edges. Be bold in your color choices. Plants come in various shapes, sizes and textures, and you can take advantage of this to create a lush feel by combining all kinds and placing them strategically. Allow for your plants to be a reflection of you and your home's aesthetic.
Another way to maximize your space can be done by creating zones in your backyard or front yard with furniture groupings, strategically placing potted plants, outdoor rugs, etc., to build a cozy interaction space to spend time with friends and family.
If you are not confident you can pull this off, you can hire a professional landscaping service. They will inspect your land and create a customized site plan to maximize your yard space.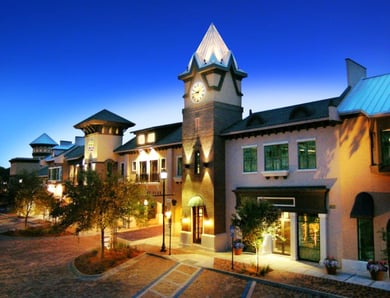 2. Outdoor Kitchens
Staying cooped up inside our homes has given everyone a newfound appreciation for spending times in their homes, more specifically spending that time in their kitchens and discovering / rekindling a hobby of cooking. Along with this time being spent in their kitchens, spending time outdoors to breathe in the fresh air has also increased.
Considering the increased time spent cooking and outside, though it's not a new trend, outdoor kitchens are quickly gaining popularity. People want an engaging space that is not inside their home but, at the same time within their property.
Outdoor kitchens are generally connected to a terrace with cozy sitting areas and decorated with natural elements like a small garden or potted plants.
The outdoor kitchen can double up as an intimate, outdoor entertainment space with the possibility of additions such as bars and barbecue areas, perfect for any kind of gathering. They are designed to make the boundary between indoors and outdoors seem seamless so you can have a warm home-cooked meal while enjoying the freshness that nature brings.
3. Adding Water Features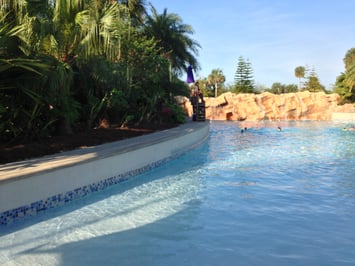 Studies have found that spending time in or around water reduces the production of stress hormones and increases the production of feel-good hormones like dopamine and serotonin. This is probably why the installation of water features has been on the rise through the past year and will continue to grow, being one of the top landscaping trends throughout 2022.
The best part is that a pond or a water fountain on your property will not just create the tranquil atmosphere you're looking for but also form harmony between your landscape and your hardscape.
4. Outdoor Fireplaces and Firepits
Outdoor fireplaces or firepits are perfect for gathering around on chilly evenings and spending time with your loved ones. The fire will add another element to your property along with your green space to add more dynamic and diversity to your outdoor area.
Outdoor fireplaces usually have some protection against the wind, but a firepit does not. This makes the embers susceptible to wind; therefore, you need to be careful while installing a firepit on your own. Make sure to clear out all the grass or any living elements like plants to at least a 7 feet radius around your firepit. Then, cover this area with non-flammable materials like rocks, gravel or bricks. You can also hire a professional to install it for you.
5. Fences
Imagine this, you've created an outdoor landscape that is fresh, cozy and has a balance of all the elements with a harmony of colors, but you have forgotten one thing -- your fence. Since it is on the very edge of your property, it is generally overlooked, but a good fence adds a lot of value to your landscape.
We all value our spaces. So choosing a fence that will provide you with the level of privacy you need while also matching the rest of your décor and the aesthetic of your entire outdoor space becomes vital.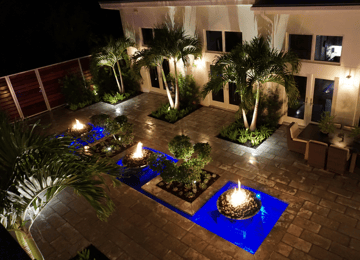 6. Outdoor Lighting
After investing so much time, money and energy in designing your landscape to suit your preferences to a tee, you would like to have access to it both during the day and night. And this is why garden lighting is so popular.
You can choose the lighting based on the theme of your landscape. Directional lighting like upward or downward lighting could be used to highlight some trees, shrubs or any other main feature of your outdoor décor.
If you have installed a water feature in your landscape, you can choose lighting to specifically highlight that. This way, you can spend time near the calming waters even after it gets dark.
For walkways such as paths or a deck with stairs, investing in automatic lighting features is a great way to preserve energy. If you value convenience, you can install lights you can remotely control from your phone. There are options to change the color of these lights as well.
Conclusion
Landscaping provides a comfortable space through all periods in life. A well-tended landscape provides you with a calm space to relax in without having to leave your property. It is an evergreen space (pun intended!).
If you liked any of the trends mentioned here and would like to try it out in your own space, or if you have any questions about irrigation and the landscaping services we offer, please get in touch with Down To Earth Landscape & Irrigation!