Landscaping is a great way to enhance your property and add character, but that's only if you can see it! Outdoor landscape lighting is the most affordable way to not only highlight the beauty of your existing landscape but even create additional living space without costly renovations. If you are looking to enhance outdoor gatherings, highlight architectural details, create curb appeal, or even increase safety and accessibility, keep reading to find out if an outdoor lighting system is right for you.
Benefits of Landscape Lighting
Not only does outdoor lighting provide a variety of benefits to your property, but all these benefits can be achieved with low voltage, cost-effective hardware. LED-based landscape lights provide several distinct efficiency and practical advantages. These advantages have made LED-based lighting the most popular choice in the landscape industry, and some HOA landscape companies are even leading the pack by utilizing cutting-edge technology and unmatched attention to detail to take outdoor lighting to the next level.
Energy Efficiency

In the past, halogen-based lights were the most popular choice for outdoor lighting systems and are still widely used by less experienced service providers. However, halogen-based lights can use anywhere from 10 to upwards of 50 watts per light! LED fixtures require roughly 80% less voltage, which means higher cost-efficiency, longer lamp life, and lower environmental impact for the end-user.




Heat Reduction

As their watt consumption is significantly higher, traditional halogen fixtures become very hot in a short amount of time, becoming capable of causing burns after only a few minutes of running. While LEDs create heat as well, it is far less than traditional halogen lighting. In fact, many newer LED systems include a heat sink, which draws heat away from the bulb and dissipates it, as well as temperature sensors. If a fixture is getting too hot, the LED board will automatically

reduce its electrical current and actively cool the fixture down.




Consistent Light Output

Traditional lighting required multiple wires to each set of lights to ensure all lights are outputting the same level of illumination. It is a complex and time-consuming process. With LED fixtures, a built-in device called a driver takes all the power it is receiving and delivers it to each LED within a fixture, so they are always at the same light level, regardless of the voltage supplied.




Fixture Longevity

With their reduced wattage and heat output, LED systems not only provide cost and energy efficiency but increased longevity. Depending on the installation, LEDs can last 50,000 hours or more. This means your LED fixture could provide light for up to 5 years before requiring a bulb change, compared to the average halogen bulb which can require yearly replacements Additionally, as LED fixtures reach the end of their life, they do not burn out like traditional lights. LEDs slowly dim over time and at very low levels, so even after 50,000 hours of use, professionally installed LEDs will light up your property for years to come.
Outdoor Landscape Lighting Tips
Focus on Common Spaces




When it comes to lighting outdoor spaces, most tend to think of simply illuminating the exterior of a structure or property. One of the most underestimated aspects of landscape lighting is that it can extend living space physically as well as visually.




When an area is illuminated, it visually pushes the boundaries of the property. The more elements that are lit, the more people will gravitate to this new space and begin utilizing more of the property. Pushing this boundary creates a visually striking look for the outside of the house, especially when the interior lights are turned off.

Find Your Boundaries

Another practice for expanding nighttime living space is boundary lighting. Many people have a fence or shrub line that represents the end of their property line. This section can be illuminated with a small output wall wash fixture. When done properly using photometric, more than one light can be overlapped to create a continuous wall of light that will subtly show the edges of a yard.

Consider Your Inside Lighting

In the process of designing a new lighting plan, remember to consider the light that comes from your existing structures, especially common areas that face out to your landscape. For example, if your fitness area includes a window facing out to your property, consider lighting this area up to provide an engaging view for your residents. On the flip side, consider the placements of resident windows or structures with powerful indoor lights as you will want to prevent adding additional and possibly bothersome brightness.




Establishing your specific needs and desires at the beginning of your planning phase is critical and if you're utilizing a professional landscape architect, make sure to have a lengthy discussion on your vision. Make sure to discuss and consider safety, utility, and the areas your property receives the most traffic.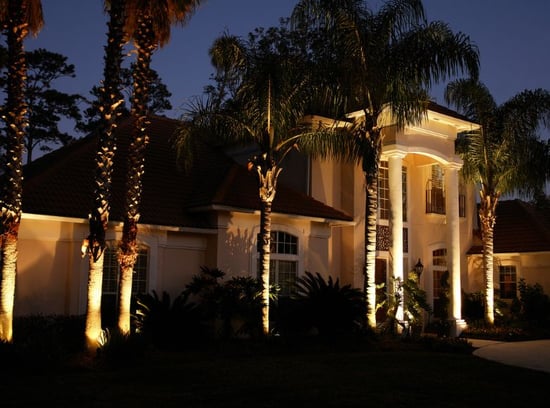 Landscape Lighting Techniques
We're going to focus on four important and very different landscape lighting techniques and the different effects they create. Remember, these effects are only achievable with the correct installation and application, and a faulty system will require full reinstallation. With that said we will be looking at the following techniques; up lighting, down lighting, path lighting, and specialty lighting.
Up Lighting


Up Lighting is a blanket term that encompasses a variety of several lighting techniques that use upward-facing features that are surface mounted or recessed. This technique creates a dramatic effect that demands attention and establishes focal points. Up Lighting is a great way to establish ambiance without choosing specific elements to illuminate.



Down Lighting




Like Up Lighting, Down Lighting is a blanket term referring to downward-facing light fixtures. This should be done with a target area in mind that the Down Lighting will be drawing attention to.




Downlighting can be used to light specific garden elements and pedestrian areas or to illuminate large spaces for safety, security, or recreational purposes.
Path Lighting




The most visible source of lighting equipment comes from path lights. Path lighting should be used to draw attention to pedestrian hazards such as changes in slope and direction, or even to illuminate surfaces that cannot be reached by Down Lighting.


From trees to eaves, or architectural elements like integral wall-mounted fixtures, Down Lighting can turn an inconspicuous detail into a dazzling accent piece.
Specialty Lighting




Specialty lighting is the utilization of unique hardware and techniques to customize a lighting system and create a personalized experience. Specialty Lighting can be the most confusing technique for beginners, and typically requires expertise in the other techniques before being attempted by a novice. If you're looking to utilize specialty lighting to create a unique experience on your property, consider contacting a professional for advice or even to perform the installation for you.



Love Your Landscape Lighting
Always remember that Landscape Lighting is an art, and just like an irrigation system, it requires a professional to plan, install, and maintain. If you're looking to achieve safety, beauty, and accessibility, it may be time to update or install a lighting system for your property. Regardless of if you're starting from scratch or looking for a reinstall, an experienced landscape professional can cater to your vision and get the job done right the first time. If you want to make sure your dream becomes a reality, get in touch with a Down To Earth professional for a free evaluation of your existing system.